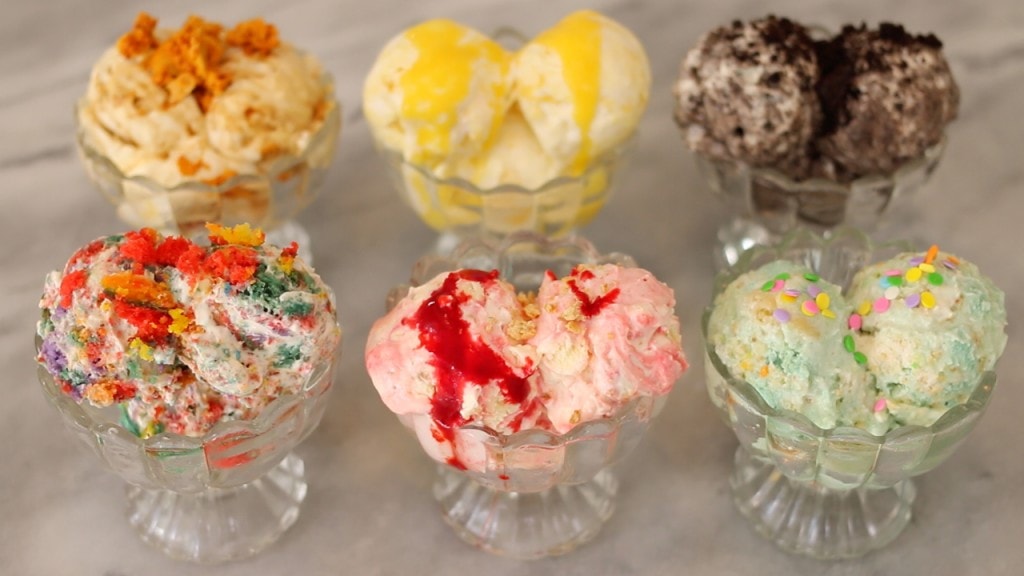 3 Delicious Homemade Ice Creams to Enjoy in Summer
Summer is to enjoy it – whether it is on the beach, the mountains, the pool or in the city. And to achieve this, nothing is better than preparing some delightful and refreshing ice creams at home. It is one of the best way to enjoy a rich and healthy dessert.
Although moderate consumption is recommended due to its high fat and sugar content, the truth is that, in its proper measure, ice cream is not something that should be excluded from the diet because its most common ingredients also provide important nutrients for our health.
Ice cream with cream or milk contains proteins, minerals such as calcium, phosphorus and vitamins like B2.
Moreover, if they are homemade, it is even better because in this way, we can control the type and quantities of each ingredient. In the article below, we gather some ice creams' recipes that would be perfect for you. Enjoy!
Rich Vegan Ice Cream
With the rapid increase in the number of vegans around the world, the ice cream industry could not stay on the sidelines of this growth. That's why artisan ice cream makers have expanded their offerings so that vegans can also enjoy those delicacies.
But what would be the basic differences? While there are some flavors that are really hard to imitate due to the absence of ingredients such as cream or cookies, most flavors have found their vegan version.
And, vegan ice creams, like all dishes on the vegan diet, excludes all animal ingredients. The question is to find the right substitutes for milk, yogurt or cream.
– Among the most commonly used are guar gum, carob flour (from the seed of the carob tree) and carrageenan, a food derived from an algae.
Our Ice Cream Recipes
Cheesecake Flavour
Heat 25g of butter and crumble 8 medium biscuits into a bowl. Add the butter and knead everything until you get a homogeneous and compact dough. Beat 300g of raspberries

with 200g of mascarpone cheese, a yoghurt and 30g of sugar.

Pour the mixture into 4 popsicle molds and leave them in the freezer for 2 hours.

Insert a stick in the center of each mold and freeze them for another 2 hours. Carefully remove the popsicles and serve with a few more raspberries for garnish.
Creamy Strawberry Yogurt Popsicles
Clean and cut 200g of strawberries in half. Distribute them at the bottom of some popsicle moulds, in the shape you prefer: heart, flower, tube… Wash a lime, dry it and grate the peel. Mix 40g of sugar, a yogurt and the chopped strawberries in a bowl.
Stir everything well, distribute the mixture in the molds and carefully insert a popsicle stick in each one.
Leave them in the freezer for 1 hour. Remove them, put them in a bowl and serve them right away.
Additional Tip: You can marinate the strawberries for 15 minutes with the sugar. This way they will not give off water and will not crystallize.
Spiced Fig and Yogurt Popsicles
Pour two natural yogurts in a bowl with 2 tablespoons of honey and stir until you get a creamy mixture. Add thyme, cloves and nutmeg.
Wash 2 figs, dry them and leave them in the freezer for 10 minutes. Cut them into thin slices.
Arrange a slice in popsicle molds and leave them in the freezer for 2 hours. Remove the molds and fill them with the yogurt preparation. Freeze them 6 hours, or better overnight.
To unmold the popsicles easily. submerge the molds in a container with warm water.
There you are! With those three easy ice creams recipes, you can properly enjoy your summer. Don't have time to make your own ice creams? Not to worry! Check out Food Specialties. Located in Mississauga, they can help you develop your signature ice cream flavours.