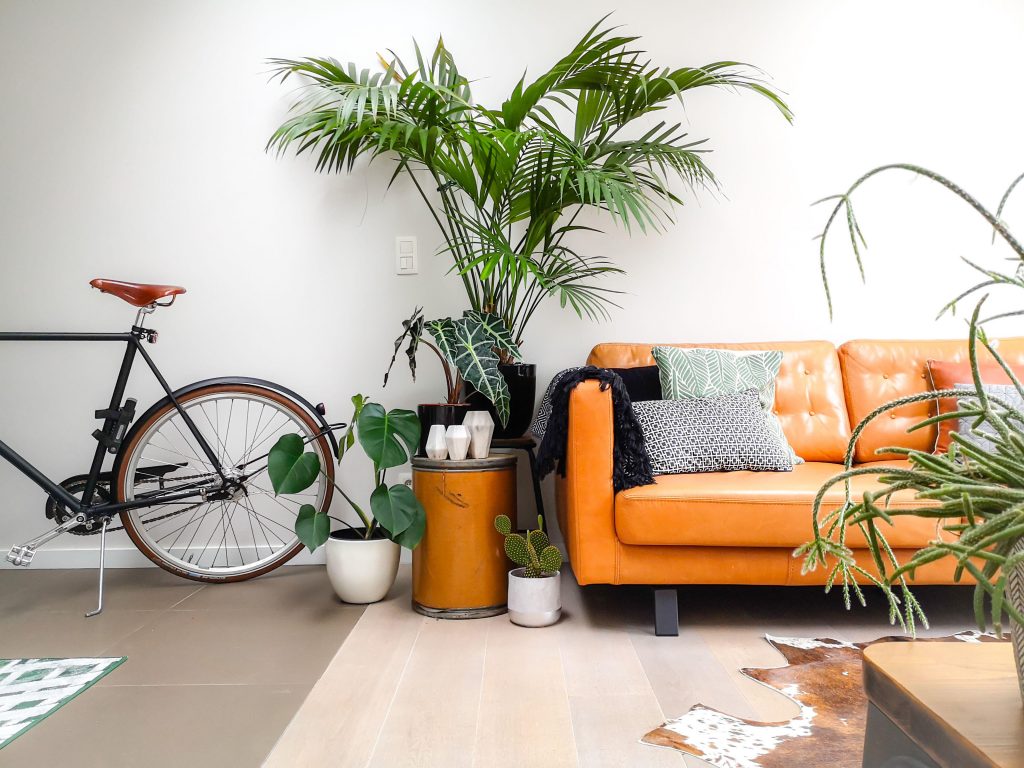 How to Display Plants Indoor? (DIY Projects)
Indoor greenery has the natural power to enhance overall home décor. So, if you want to include flowers and plants in your home décor, here are some simple ideas.
Homemade Floral Mason Jar Sconce
Materials You'll Need for This Homemade Project:
Mason jar
Two pieces of wood
Wax ( You can use both a clear to seal and a white to distress)
Some flowers
Drill
Wall mount
Fairy lights
Rustic wrought iron hooks (with screws)
Stain: 1 qt Minwax dark walnut wood finish oil-based wood stain and a rust-oleum wood stain
Rubber band (optional)
Ribbon (optional)
Cording or just (or you can also use the pre-made mason jar hangers)
Instructions to Do This Homemade Project:
Step 1: The first step includes cutting the wooden boards to 12 inches in length. Then, sand them down in order to get rid of any splinters and smooth out the rough edges.
Step 2: Now, you have to paint or stain the boards. You can now use the 1 qt Minwax dark walnut wood finish oil-based wood stain to darken the board's color. Then, you may use the rust-oleum wood stain.
Step 3: Next, use the white wax to define the intensity of the board and give it more dimension. Clear wax can then be used to seal them.
Step 4: At this stage, you will have to add the hardware. First, try to find where you want to install the rustic wrought iron hooks and once you find the ideal spot, make sure you set them in the center and use the screws that come along with the hooks to make an indentation on the wood.
Step 5: With the drill, make pilot holes in the wood for installing the screws. Then, attach the hooks –it will be super easy!
Step 6: Don't forget to add a wall mount on the back. You can use whichever style or method you prefer to install it.
Step 7: At this phase, you have to start preparing the mason jars. Take the cording and cut it at 26.5 inches. It would be the perfect length to tie around the Mason jar. Make sure to tie the cording at one end of the jar and then at the other. If you have more than one sconce, please tie the cording at the same length.
Additional Note: To secure the knots properly, you can use hot glue to prevent them from coming undone and to prevent the cording from fraying.
Step 8: Now, prepare your flowers. The choice and color of flowers depend on your personal preferences. Once your flowers are ready, cut them off to fit the jar height and tie them together properly using the rubber band.
Step 9: You should now use the remaining piece of ribbon and some hot glue to cover the rubber band.
Step 10: Finally, the last step consists of placing the fairy lights and the flowers in the jar and hanging the jar on the wall.
Personal Review: This type of indoor plant decor is a beautiful touch to house décor. This plant décor would shine the most at night and would give similar feelings to a jar filled with fireflies.
Make a Wish Décor
Instructions to Make This Homemade Plant Décor:
Step 1: To make this project more meaningful and exciting, you can plant the flower bulbs instead of just purchasing them. To learn more about growing and caring for alliums and tulips, click here.
Step 2: If you are not really a fan of gardening and prefer using store-bought flowers, you can start the project immediately. So, once your flowers are ready –try to include as many alliums and tulips as possible – spray paint them white and put them in a simple, transparent vase.
Step 3: Then, put them in your bedroom –maybe somewhere close to your bed or on your lamp table.