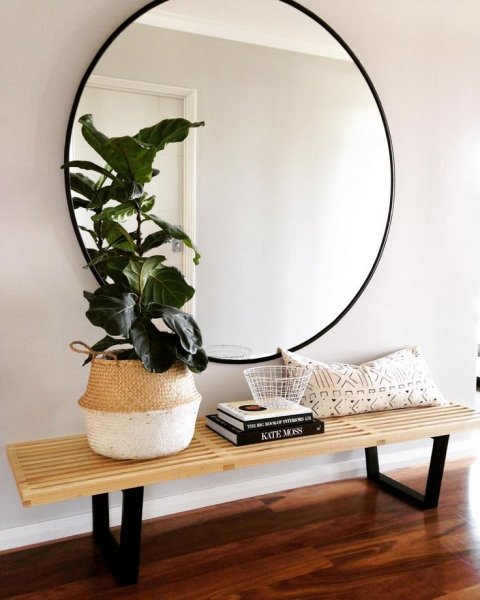 Curved or rectangular, small, or large, mirrors can enhance any room in a house and are always trendy! Are you still hesitating about the shape, frame, or where to place your decorative mirror? Here are a few ways to decorate any space using mirrors!
1) Mirror, Mirror, on the Floor!
The first solution is one of the best known and quickest way to enhance a space, a large mirror placed on the ground. If you don't want to pierce the walls of the living room, especially if DIY is not your strong point or simply because you are a tenant, a good alternative is to place a mirror on the floor. For this décor, look for a beautiful and large rectangular mirror. For example, a wooden framed one in which you can see yourself from head to toe can be a great choice! You can place it anywhere it fits, even in your bedroom. It usually takes up little space and is handy as well, especially to check your outfit and for the last makeup touch-ups before heading out!
2) Opt for a Standing Mirror
Speaking of functionality, you can choose a standing mirror and place it near a piece of furniture. Unlike the first solution, what is interesting here is that this type of mirror is much more stable. You won't have to dangerously perch in the bathroom to use the mirror. Moreover, most of the standing mirrors require minimal to no assembly, meaning that they can be used right out of the box! This is also ideal for anyone who does not have much space, like for those who live in a studio or have a small bedroom. 
3) Hang It on the Wall
Hanging a mirror on the wall of a living room is by far the most classic and effective décor method. Not only does it enhance the space in the blink of an eye, but it also helps bring in more light to the room. The key here is to place it in the right places, such as facing the window so that it reflects light throughout the room. You can also select mirrors that will highlight the style of the room. For instance, a geometric design can be an excellent choice for a modern look while a sunburst framed mirror for a vintage one. Find the model that suits your interior space and hang it on the wall!  
4) Use a Series of Mirror
More decorative than practical, you can also consider hanging a series of identical mirrors above the headboard of your bed. Opting for some eye-catchy and unique mirrors can even help make this décor idea the focal point of a room. Additionally, this design is also useful in giving the illusion of width and height to a space.
5) Create the Illusion of an Infinite Path
In the extension of an open corridor, place an XL mirror on the last wall. This will create the illusion that the corridor is endless and that many rooms are still to be discovered-the ideal decor, especially for apartments in facing directions. 
6) An Accumulation of Mirrors to Bring Life to a White Wall
Nothing better than an accumulation of mirrors to enlighten a simple, white wall. The concept behind this collection? The models are all of different shapes and sizes, just like the materials of the mirrors! Placed at different levels, the mirrors can accentuate the flat surface and beautify the room at the same time!
7) Use a Mirror to Hide Imperfections
Before embarking on any major work, it is essential to know that there are a few tips and tricks to help hide little imperfections in the house. Easy to set up and decorative, they'll help redirect people's gaze upon the holes, damaged walls, and leaves them almost unnoticed! 
8) Create a Beautiful Piece
You want to enhance the dining room, the living room, or any other arrangement, but cannot find the item that perfectly fits the rest of the decoration? A large mirror will reflect the different elements that make up the space while respecting the chosen chromatic range. Centered above the area to be highlighted, it will be as beautiful as a piece of art!
A mirror is a practical decorative element. Its sole function isn't just to aid in grooming only. Mirrors can be used as decorative tools, to enlarge a room, reflect light, and transform an area in several different ways. Moreover, they are readily available and affordable, as well. In short, the mirror can be a real ally, if you know how to use it correctly for the space concerned. Now you can get started with your mirror decors!
How do you make use of mirrors for your interior décor? Share your tips with us in the comments below!