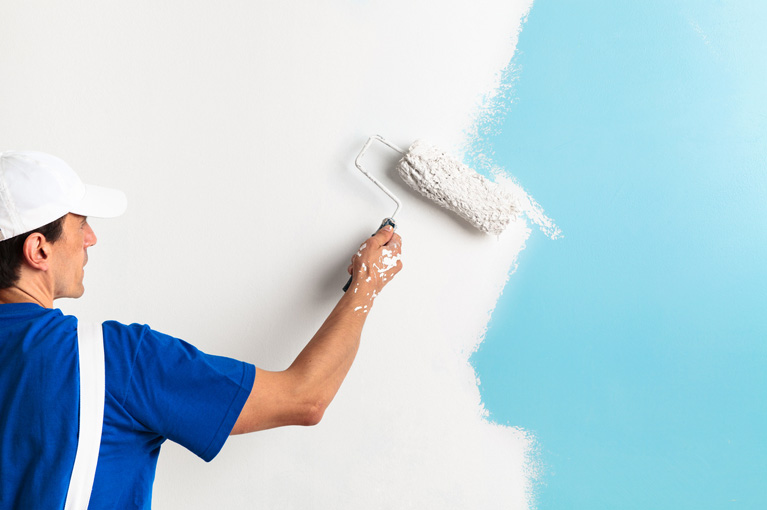 8 Tips for the Best Painting Results
You recently decided with a lot of energy and determination to paint half of your house yourself for the first time—a great idea. Still, it would be better not to immediately get your hands on brushes and rollers in such circumstances. Only with a minimum of preparation will you be able to avoid the mistakes that inexperienced painters make. Here are some useful tips to help you start:

1) Using Plastic Sheeting
Anyone who paints a room rarely makes an effort to remove the junk. It is too difficult. So everything is covered with old clothes and sheets. That's one of the possible solutions, but sheets are not impenetrable; in many cases, the paint ends up dripping. The ideal solution? Opt for plastic sheets. Apply them not only on the furniture but also on the floor. Fix them to the floor with double-sided adhesive tape.

2) Pay Due Attention to Cleaning, Filling, and Sanding
Have you already gotten goosebumps from the sound of sandpaper running over the wall? Unfortunately, you'll have to pass that test if you want a flawless finish. Before you do, you'll also need to thoroughly clean the surface to be painted and cover up any cracks. Also, don't forget to sand the surface. Good to know: a wall is always cleaned from bottom to top so that no dirt spurs are formed.

3) Test the Colors
What colour do you choose, for which wall (or walls), and what other colour can you combine it with? Always carry out a real or virtual test beforehand so that you don't make a mistake.

4) Don't Confuse Matte With Satin
Matte paint is usually not washable. Therefore, it is best not to use this product in wet areas such as the bathroom or kitchen. This advice also applies to high-use areas such as hallways and children's rooms. On the other hand, satin paint cannot be used on surfaces that are not perfectly finished. It will accentuate imperfections.

5) Paint At the Right Time
Weather conditions can have a significant impact on your paint. When it is cold and wet, the colour will be difficult to apply because it is sticky in those conditions. It will also take longer to dry. When it is very hot (over 30 °C or even 25 °C), the drying becomes too fast again, so the paint may not last as long.

6) Getting the Right Amount of Paint
Calculating the amount of paint needed for a project is not an easy task. Especially when you have forgotten the formulas for calculating areas and are not very fluent with numbers. Besides, you often have to plan for more coats so that you can get completely lost.
For your convenience and to prevent you from buying 25 litres of paint when you only need 15 or missing one litre at the end of the job, use a quantity calculator. Just enter the height and total length of your walls and ceilings, and after one click, you will see how much paint you need for your next job.

7) Give Sufficient Importance to Priming
If you do not apply a primer, you run the risk that the paint will not adhere properly to the substrate or that it will be absorbed into a porous wall. The result: you will need more coats. You can avoid this risk with a primer.

8) Apply the Right Method
Painting well requires a minimum of organization and discipline. Pay due attention to sanding and dusting the surfaces to be painted. Mix the paint in the can. Stir to the bottom so that the pigments are well distributed. Never start painting from the bottom, and do not forget to apply first a primer coat and shortly after a second coat.
Do you have any other painting tips? Share it with us in the comments below!