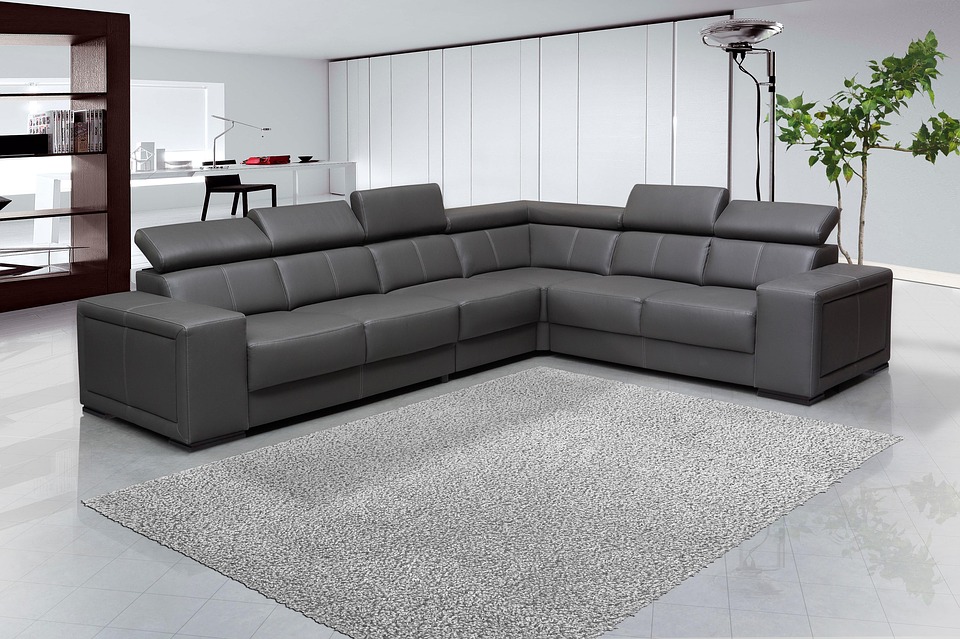 Homemade Rugs That Any Homeowner Can Make
Sometimes, rugs can be prohibitively expensive and it is often difficult to find one that matches your room's colours. So why not make your own? Let's take a look at some easy DIY rug ideas!
#1. Create a Crochet Rug From Repurposed T-Shirts
Step 1: Your first step includes finding the correct fabric. You can choose t-shirts that are mostly or 100% cotton, and have no or very little print on them, preferably only above the arm line. You will also need a fairly consistent fabric weight, so don't try to combine a Hanes t-shirt with a paper-thin cotton shirt.
Step 2: Second step includes creating your yarn. There are several t-shirt yarn tutorials on the internet so you are free to choose any one of them or try this one out. Cut the shirt below the arm line and below any print and then fold the t-shirt from one side to the other side but leave it about 1 inch short from actually meeting ends. Now cut the t-shirt into 1.5 inch strips, avoiding the 1 inch allowance. Let me tell you that thicker strips will give you thicker yarn, so, don't cut too thin, or the yarn won't form. Open up the shirt to see your 1 inch allowance. Then you cut starting from the hem, on a slant, from 1 strip to the next across the allowance – this will connect all the strips together.
Step 3 – Crochet: For this step, I recommend to use a single crochet for a dense weave. As you will be crocheting in the round, it is better to start either with a magic circle or the Chain 2 method. These methods can easily be found over the Internet. Then, you can use the largest crochet hook you have on hand, for example it can be a size Q and start with 6 single crochets in the first round, double it to 12 in the second round, and slowly increase by multiples of 6 beyond that. Or, you can also try starting with 4 single crochets doubling to 8, and then actually counting your way around.
Now, if the work is curling up, it means you need more stitches in the round. But if the work is ruffling, you can either take it apart and not increase as many stitches, or do a round with no increases. You can also try to alternate where you make the increases so as to keep a circle shape. You will notice that if you increase in the same spot each round, you will end up with a polygon instead of a circle because of the bulge that extra stitch makes.
It is important to note that when you run out of a particular shirt, tie it to the next shirt with a small knot and keep going and when you have come to your desired size, or to the end of your t-shirt stockpile, pull the end through the last loop and pull tight. Then weave in your ends.
And there you have your crochet rug all set!
#2. A Wine Cork Bath Rug
Materials you will need:
175 wine corks
Hot glue sticks
Non-adhesive shelf liner
Pocket knife
Cutting board
Rotary cutter and mat
Long ruler or yardstick
Hot glue gun
Coarse sand paper
Instructions:
Step 1: You start by cutting each cork in half lengthwise with a sharp pocket knife. And make sure you don't lose a finger in the process.
Step 2: Then you arrange the corks into a rectangle with flat sides down. You can use a ruler or the lines on a cutting mat to make sure your configuration of corks is as close to a proper rectangle as possible.
Step 3: Next, measure and cut the shelf liner to size with a rotary cutter, ruler and cutting mat.
Step 4: Now, transfer the columns of corks to the shelf liner and glue them to the liner's top side. After applying a rectangle-shaped line of glue to the flat side of each cork, line up the cork with the edge of the mat and press really hard. And after it cools, make sure to wipe away any glue dribbles.
Step 5: Once you have your frame in place, transfer the rest of the corks to their appropriate positions on the mat. There will be some arranging that will be required to make all the corks fit. Afterwards, remove one cork at a time and then glue it down. And finally, you are done!
Which one will you try out first? Please share your comments!