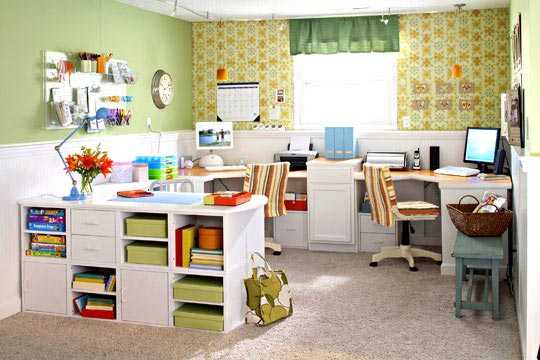 5 Ideas on How to Use an Empty Room in Your House
You live in a house or an apartment with several rooms and you have one free? Are you wondering what to do so that it doesn't become the "room of the hunters"? You want to take advantage of this empty room in your home with a great idea? Well, you've reached the right place. Today, we share some ideas so you can make the most of that empty room.
A Space for Your Hobbies
You probably thought you needed a place to study, read, exercise, paint or even start a business and didn't realize that this room was ideal.
The perfect room to practice your hobby Organize, design and install functional furniture and shelving that will allow you to enjoy a space full of magic, creativity and freshness. This will allow you to indulge in your favorite activity, whatever it may be.
For example, place a table or desk against the wall that you can use for knitting, painting, writing, crafting. If you add a hammock near the window, it will be ideal for an afternoon of reading. In a corner, you can place cushions, a woven puff, aromatic candles or a diffuser and make it your meditation place.  You can find inspiration here.
A Home Gym
Want a more active lifestyle, but prefer privacy when you exercise? How about setting up the gym right in that spare room? You can gradually acquire some basic machines like an elliptical, treadmill or exercise bike. In fact, you can also start with the bare minimum: a few dumbbells, a jump rope, a mat and some yoga balls.
Or, why not adapt a giant mirror on one of the walls and turn it into a dance studio? Add a speaker for music, decorate with plants and some posters with motivational phrases.
The Dressing Room of Your Dreams
The closet doesn't have to be in the main room. This is your chance to feel like a diva and decorate it with a large mirror, drawers, shelves, baskets and coat racks. Leave an exclusive space for accessories, shoes and bags. Jewelry and watches can have a special cabinet in which they are displayed or you can have them in view to always use them all.
If you love makeup, consider adding a very chic dressing table to recreate all the fashionable looks. One tip, place a stand for your tablet or cell phone to more easily view tutorial videos. Want to see some ideas?
Play Space for the Kids
When you have kids, the house doesn't have to be a battlefield with Legos, cars, dolls, stuffed animals and playdough everywhere. Take advantage of that empty room in the house to create a place for fun and games.
You can add pastel colors to the walls, shelves to organize toys, or a cabinet with baskets and labels so that everything has its place. A rubber mat or rug can make the space feel warmer if you need it. In one corner, add a table with materials like crayons, paints, colors, brushes, leaves, glitter, glue and anything else you like.
A Home Office
We already know that at home it is possible to study, work or create new businesses. How about organizing everything to make it your own office? Gather the collection of books you have and build a modern and sophisticated library; put a table with design, an ergonomic chair and add your computer to be comfortable during your working hours.
You can also put the printer, markers, post it, tapes and other office accessories. Don't forget to always put your personal stamp on it.
There you go! Do you have any other ideas of what to make with an empty room? Share them with us in the comments below.