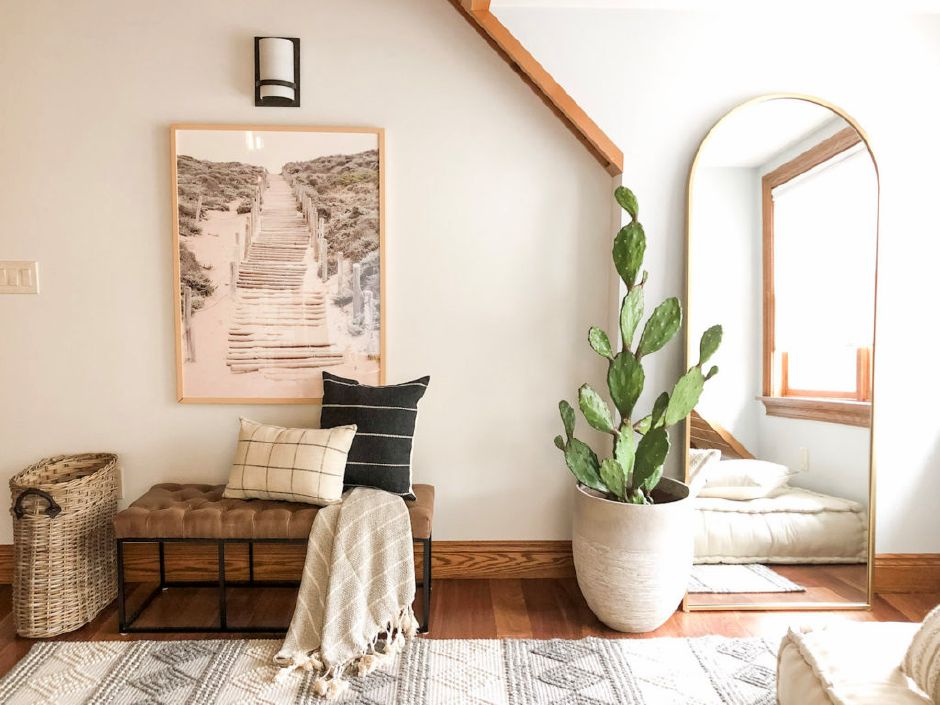 6 Ideas to Create a Relaxation Space at Home
Would you like to organize and redecorate to create a relaxing space in your home? Do you feel that you need a place to find calm and inner peace at home? Organizing an exclusive space where you can relax, listen to music, read a book, have a drink or meditate will help you improve your mood, free your mind, increase your productivity and achieve mental well-being.
Not sure how to proceed? Not to worry! In today's article, we will share some tips that you can apply to say goodbye to stress, saturation and unnecessary objects. Ready to keep calm and relax? Read on!
1.Lighting – Natural Light is Best
Lighting is one of the most important aspects of creating a relaxing space at home. Having natural light in your home increases the levels of serotonin in your body, a neurotransmitter directly related to our moods. The effect of sunlight on serotonin production was verified in 2002 in a study conducted by researchers at the Baker Research Institute in Australia and published in the scientific journal "The Lancet".
So, free up the light inlets, choose to have large windows in your home, and at night, opt for lamps, candles or low-intensity light bulbs.
2.Some Colors Evoke Serenity
Choose a decoration with colors that match your personality. Keep in mind that colors also have their psychology; if you want to be full of energy and joy, use your favorite colors.
To generate tranquility and space, light colors such as white, beige and pastel tones are recommended. If you want your home relaxation space to transport you to nature, use green colors, earth tones and blues. Yellow and orange are ideal for filling you with energy and vitality.
3.Natural Walls: Full of Style
Define how you want your walls to look. Whether it's with wallpaper or murals, you can create an environment with lots of personality. Remember, don't overload it with decorations, textures or colors to avoid clutter.
Opt for wall paints or wallpapers with natural patterns, which allow you to achieve a unique style and full of fresh landscapes.
4.Order and Cleanliness
Take the opportunity to organize and leave only the items that are really functional, that have a purpose. Avoid having your home entertainment space filled with objects, obstacles and furniture without any sense of purpose.
Clutter and dirt produce an atmosphere of abandonment and chaos, so to get a stress-free place, we must keep everything clean and tidy. Reduce the decoration, do not accumulate, use baskets or boxes to classify items. Apply a little minimalist trend: less is more.
5.The Essential Plants
Plants are the best allies to create a relaxing space at home. They bring naturalness, freshness and oxygen. Choose a small plant, a large one as you wish, remember that indoor or outdoor plants are different.
You can also have a vase with flowers, eye! always fresh, colorful. The feeling of peace and joy they convey is unique. In addition, taking care of plants helps to connect to positive energies and achieve states of relaxation, according to Feng Shui.
6.Music to Set the Scene
Turn on your favorite playlist! Look for acoustic or instrumental versions to create a calm and relaxing environment. If you want to fill up on energy in the morning, you can start with more upbeat music.
If you want to start practising mindfulness or yoga, you can also find podcasts or lists with guided meditation audios on various music streaming platforms.
The place you choose to create your relaxation space at home, share it with your family. The idea is for it to become the refuge that everyone takes care of, a space that allows you to do those things that relax, distract from the daily grind and recharge your energy. Did we miss any tips? Let us know yours in the comments below.