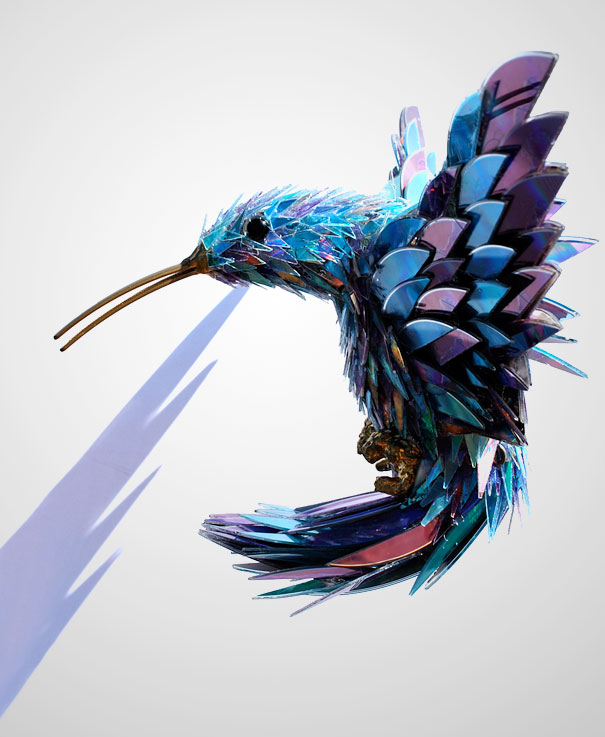 12 Original Ideas to Reuse Your Old CDs
Now that it's easier to choose music on demand to listen to in the car, on the subway or at home, records have taken a back seat. However, nostalgia obliges, you probably have many of them piled up in a corner. What if you do some DIY with these CDs to reuse them?
The number of ideas you can capture on a disc are limitless! You can be inspired by the cover of your favorite movie, a Van Gogh painting or even a mandala. With permanent markers and a lot of imagination, it is possible to create real works of art that will serve to decorate the wall of any room in the house. Not sure how? Not to worry – in today's blog, we give you some very original ideas. Grab a pen and paper and take notes.
1.Make Animals Out of CD Pieces!
This craft is a little more labor intensive than the others. However, the end result is spectacular and can be very well placed on a shelf or display case as decoration.
2.A CD Curtain
One idea that can help you decorate the window area is to make a curtain out of CDs. The effect of light falling on the record is great, but if you prefer to customize them to your liking, you can rub the cover of them until it is transparent and decorate them as you like.
3.CD Coasters
A useful item to avoid staining the table with drinks are the coasters, very simple to make. And you can cover them with patterns with adhesive paper.
4.Disco Lamps
With the CDs, forget about buying a lamp. There are many models to make lamps: sphere-shaped, vertical, square… If you like to give bold touches to your home decor, this is your lamp.
5.Decorate a Vase
Want to decorate an old vase? If you cut out pieces of discs in the shape of a triangle and glue them together, the end result gives it a very modern aesthetic. And, it goes with everything!
6. Earring Holder
Do you like your earrings to be hanged? CDs are also used to make a rotating earring holder. You can personalize it in many ways. It's ideal, isn't it?
7.A Hanging Mandala for the Garden
Mandalas are another decorative element that can look great in outdoor spaces. It's a simple way to add a different touch to the garden.
8.A Box
Yes, you read that right. With a few CDs and a zipper, you'll have a custom case. It's really easy to do! Cover the outside of the two discs with fabric and sew on the zipper. Clever!
9.A Napkin Holder
Napkin rings are another one of those accessories that are always good to have around the house. In this case, they can be made with three discs: one for the base and two for the sides. The result is great!
10.A Tote Bag
Often, it is very important to have the things you need to do throughout the day written down in a specific place in the house so as not to give rise to forgetfulness. This way you make sure you know where to check dates, medical appointments… With a CD, you can make a message holder to hang on the fridge, very pretty.
11.A Flower
Another cool thing you can create with a CD is a flower. By applying a little heat, you can distort the disc and give it a shape. Later, with the flower, you can make your own earrings or wear it with a headband.
12.Make a Flower Pot Out of a CD!
One trick to reusing records is to make a small pot in which you can place small plants like succulents. It's very original!
There you go- we are sure you will now create beautiful artworks with your CDs! So do you have any other ideas to reuse some old objects? Let us know in the comments below.