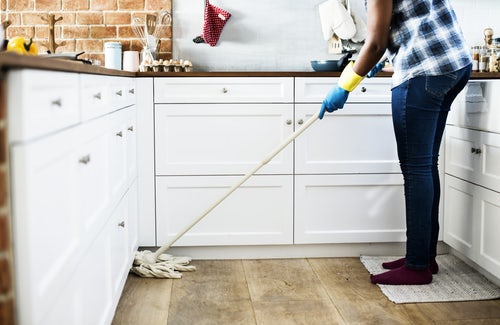 7 Homemade Cleaners that Actually Work
Ever had a staining problem or run out of cleaning products? Well don't worry, your own pantry could be a goldmine of effective cleaning ingredients that you can use, and the best part is it's free! So get your gloves, open your pantry, and let's begin some DIY cleaning.
All-Purpose Cleaner
What you'll need: One part white vinegar, one part water, lemon rind, rosemary rinds
Mix all of these ingredients and pour into a spray bottle. Let the mixture infuse for a week and you can use it to clean stains, trash cans, wipe walls, and glasses. This is really an all-purpose cleaner.
Kitchen Cleaner
What you'll need: 4 tablespoons baking soda, 1 quarter warm water
Baking soda is a highly effective cleaner and deodorizer. It's great to clean refrigerators, sinks, appliances, and more. Just pour some and start wiping.
Stain Remover
What you'll need: 1 part hydrogen peroxide, 1 part baking soda, 2 parts water
After mixing these three elements together, you can apply them to stain before washing. This will ensure the stain disappear and everything is clean again!
Drain Declogger
What you'll need: 1 cup of baking soda, 1 cup of salt, half a cup of vinegar, half a cup of lemon juice, 2 cups of boiling water
Mix all of these ingredients and pour it into the drain. Let it work for 5 minutes, and then add half a cup of the lemon juice. After 15 minutes, add 2 cups of boiling water and that shall do the trick.
Foaming Hand Wash
If you're out of soap, then don't throw away the pump. You can always fill the dispenser with 1 tablespoon of liquid soap or dishwashing along with water to create your own homemade foam hand wash.
Glass Cleaner
What you'll need: 2 tablespoons of lemon juice, 1 tablespoon of white vinegar, 1 cup of hot water
Shake all of these together and you're set to spritzing the solution on your glass. It will ensure a shiny glow and keep your glass clean.
Grease Cleaner
What you'll need: half a cup of sudsy ammonia
Sudsy ammonia contains a detergent that helps in removing tough grime. All you'll need to do is mix the ammonia with enough water to fill a one-gallon container. You can then start cleaning your oven racks, stove hoods, and grills with a sponge filled with the solution. You may also soak the grill grates and oven racks into the solution directly.