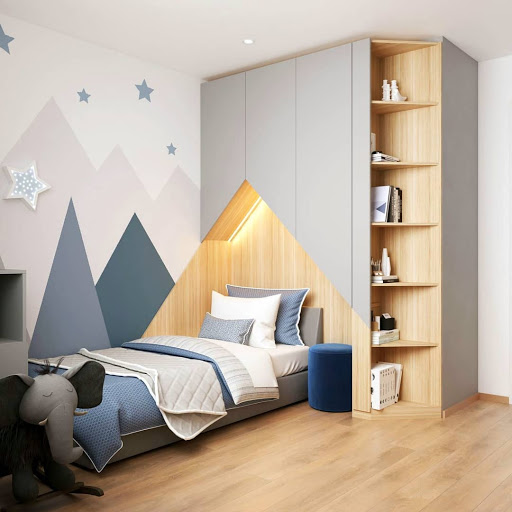 How to Future-proof your Child's Bedroom
A child's bedroom is a constantly evolving world of superheroes, hobbies, loves and interests that change like the weather. To save you from breaking the bank with playing catch-up with the décor, we have put together these nifty futureproofing suggestions. We're talking about rooms that can adapt to the growth of your child by incorporating adult sensibilities into a playful scheme.
Baby to Toddler
1. Choose a low storage unit that can double as a changing table: When you're thinking about a changing table, think ahead to the days when you won't need that flat surface to wipe a tiny bum anymore. By the time you have a potty-trained toddler, that changing table won't be necessary and it won't have nearly enough storage for their growing clothing sizes. Instead, opt for a low storage unit and choose a changing pad for the top that can be taken away once your baby moves out of nappies.
2. Find a cot that converts to a toddler bed: Be on the lookout for a cot that can later convert into a toddler bed, because you'll be likely to squeeze an extra year or two out of the bed that way. You might also find that transitioning your toddler out of his cot is made easier if you simply need to remove a single wall. No promises on that one though!
3. Choose a rug that's built to last: It might seem like a cozy inclusion for a baby's nursery, but a fluffy rug probably won't be able to withstand your hard-playing toddler. Between the smaller pieces that could get easily lost or trapped in a thick pile rug, and the reality that kids only get messier and dirtier as they get older, you'll want to choose a rug option that will last. In order to keep the floor soft under your baby's crawling knees, try a thick rug pad under a washable cotton rug.
Toddler to Kid
1. Look for a bed that can bunk: When you're looking to replace that crib-turned-toddler bed with something a bit more substantial, try to find an option that can be bunked, either right away or in future years. A child that can manage the ladder will enjoy sleeping high up, while the floor space underneath is prime real toys. A bunk bed will also allow you to put two kids in together, should they be ready to become roommates.
2. Seek out toy storage that will grow with your kid: Finding the right toy storage is an ongoing pursuit for most parents; it always seems like there could be a better solution! Finding a set of shelves that will fit baskets or boxes with lids is essential. When your toddler is little, you'll want them to be able to see their toys and play with them, and putting them away should be a reasonably simple task. As your child's toy collection grows – or they gain a younger, grabbier sibling – those lidded boxes will become a lifesaver.
3. Slot artwork into simple frames: Rather than investing a chunk of change in specialized frames for artwork for your child's room, opt for generic frame sizes so that you can easily swap out the prints or photos inside as needed. A standard size, like an A4 or even A1 frame, is ideal.
Kid to Teen
1. Save room for a desk or a chillout zone: One of the great things about a bed that can be bunked is that a desk can be situated underneath, as studying requirements grow alongside your child into their teenage years.
2. Make designated storage for mementos: As kids enter their teen years, their storage needs change yet again. Lego might give way to more memento-like items, like concert tickets or printed polaroids. To help your child keep what's precious to them (sometimes it's hard for parents to know what's junk and what's priceless to a teen), get a storage bin specifically for mementos. Even better if you can repurpose one that's previously been used for toys.
3. Mix in lighting for late-night teens: As your teen starts to stay up later and must do homework into the dark winter nights, lighting is going to be increasingly important, both for ambience and productivity. A desk lamp that gives off a warm light that's strong enough to keep your student awake should top the list. A bedside lamp will probably be the most-used light in the room, and can help take the edge off the blue-light shining from their phone.
Do you have any other suggestions? Be sure to share them in the comments below.