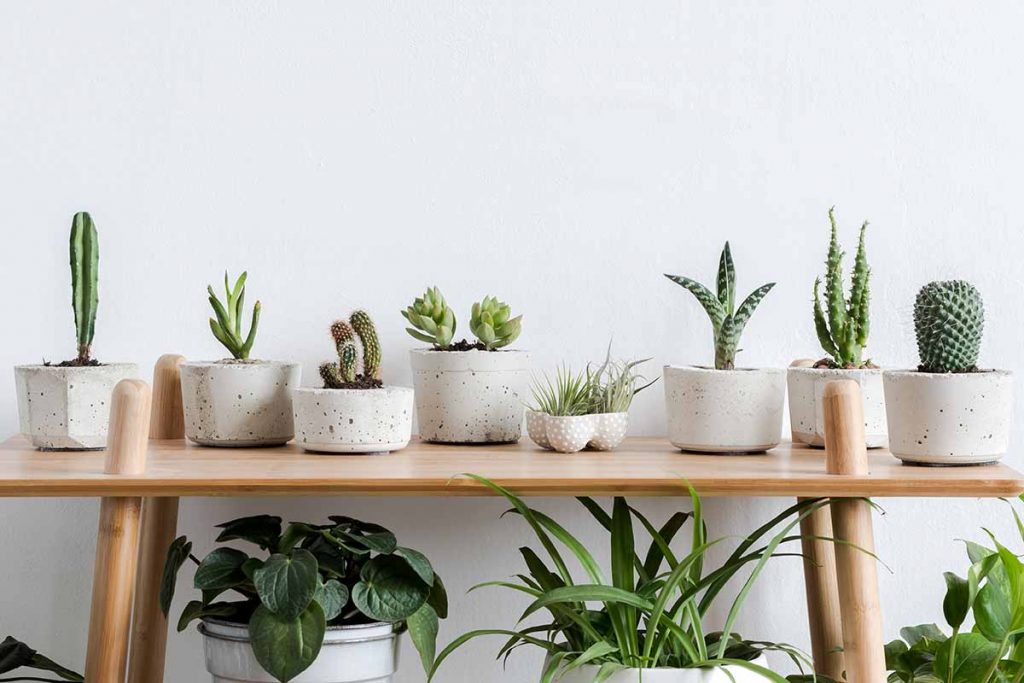 Easy and Attractive Succulent Décor Ideas to Beautify Your Home
From my years of experience parenting succulents, one thing that you need to know about these plants is that they can not only grow best in room temperatures, but they also make ideal home décor pieces.
Make a Hanging Succulent Planter
Materials you'll need:
Paint
Spanish moss
A hot glue gun
Faux succulents
A display case
A picture frame sawtooth hanging brackets
Instructions to make the hanging succulent planter:
Step 1: You start by unscrewing the top glass frame from the bottom box and then eliminating the hinges.
Step 2: You can try filling the holes with wood filler and then painting them a color of your choice. (If you are too lazy for that, just skip this step.) For the painting part, you could use the dry brush technique or go for spray paint – it's indeed the easiest and fastest way to paint all those tiny compartments. Once the painting phase is over, give it a few minutes –around 15-20 minutes – to dry out.
Step 3: Now, using the hot glue gun, stick the Spanish moss into each tiny compartment and right on top, you can add the succulents and make sure you glue them properly.
Step 4: The last stage includes nailing a sawtooth picture frame bracket on the crate and if you are using a display that already has picture frame hooks on the back of it, you can just hang it right away.
People's Reviews:
"I like succulents also. This is a great idea of creating a hanging planter using a display case. It adds nice color and texture to the mantel." – From Debra
"What a great idea. I'll be looking for a display box on my flea market/yard sale excursions this summer. It looks great! – From RHONDA
"I love this succulent planter. I'm going to share this great idea with my friends and I know they will love it. I was wondering if I could add a few flowers also?" – From Amy
Decorate a Spring Mantel With Succulents
Materials you'll need:
Succulents
A large piece for the center of the mantel
Varying heights and sizes of décor pieces
More décor pieces of varying textures and colors
Instructions to decorate a spring mantel with succulents:
Step 1: You should start by gathering all the items you need to decorate your spring mantel. The choice is completely yours, but make sure the décor pieces vary in textures, heights and colors as you'd want them to be as appealing and as colorful as they can be.
Step 2: You can use an old window as the centerpiece and add the décor pieces around it. You can even paint the old window and add stickers or anything else you want on it.
People's Reviews:
"I love everything about this vintage spring mantel! The whimsical touches really showcase the window centerpiece. Also, this is a very smart idea to place the succulents around the mantel – I love that idea. The sign is a perfect message for the season. Hugs and Happy Spring! – From Vicki and Jenn
"I am totally bananas for the chippy window idea, it's fantastic. I love how the rustic containers, the succulents, and the lavender can mixed to give birth to such a beautiful thing. It's everything spring should be – perfection!" – From CoCo
"This spring mantel idea is perfect! The combination of chippy white woods and white accents sparked by the galvanized containers and greenery is fresh and definitely Spring! I just love it!" From J
"I just love old chippy windows and I love how the mantel comes together with the pops of natural elements in the greenery and wood. I've been working on this project and I was thinking if stripes can be added on my sugar mold?" – From Anonymous